ACCESS CONTROL
BUILDING ACCESS SOLUTIONS
Honeywell's NETAXS 123 web-based access control system provides solutions for installations of any size. NetAXS® enables users to securely manage their system anywhere there's an Internet connection—with no dedicated PC costs. The user-friendly design makes it simple to install and easy to operate and maintain. NetAXS gives you all the benefits of traditional access control such as helping you secure your doors, manage employee access, and manage sites remotely. It also lets you pull reports easily to meet compliance requirements. With a browser-based interface, your learning curve and training time are significantly decreased. And you don't have to have a dedicated PC—simply log on and you're ready to go, securely— from the office or anywhere. NetAXS has been developed with an installer-friendly design that easily adapts to existing IT infrastructure and methods. This means reduced installation and support cost. Its superior scalability means you can purchase the exact amount of access control you need now—and add doors later as business needs change. Plus, NetAXS integrates with Honeywell's fully-featured WIN-PAK and MAXPRO Cloud softwares to enable more robust and sophisticated NetAXS integrations. So as your system grows, NetAXS grows with you.
System Highlights:
SIMPLE: Manage your access control anywhere with an Internet connection
SCALABLE: Purchase the exact amount of access control you need now and easily add doors later
FLEXIBLE: Compatible with WIN-PAK® XE, WIN-PAK SE, WIN-PAK PE, WIN-PAK PRO CS (managed access) software and MAXPRO Cloud service.
GATE ACCESS SOLUTIONS
As a Door King Dealer, we offer a full line of residential and comercial barrier gate operators, traffic spikes (automated and stand-alone), warning signs and more.  Our barrier operators are designed with advanced electronics for the parking industry – multiple UP commands, UP input memory buffers, down memory options, plug-in loop detectors, several barrier arm options, the DKS Loop Logic (PatPend) vehicular/pedestrian detection system, LED lighted barrier arms, and breakaway hardware kit. We also back our barrier operators with a 5 year warranty. Call 850-664-2222 or email sales@atozsecurityandsound.com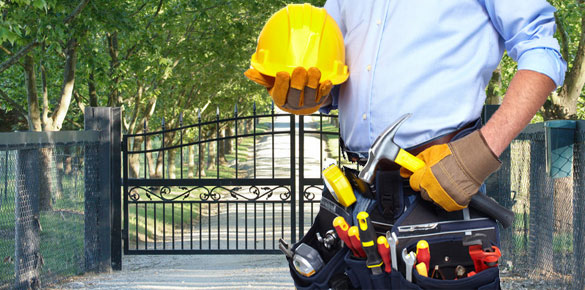 We can design, install and maintain your gate access system. Working with local fence and gate companies, our design team can assist you with a single gate or multi-gate solution. With our integrated camera surveillance and intercom/phone systems, your property access can be easily controlled while maintaining the aesthetics you desire. Call 850-664-2222 or email sales@atozsecurityandsound.com
Barrier Arm Solutions
 
•    Reduce maintenance costs.
•    Allows arm to swing out of the way when struck by a vehicle.
•    Easily reset by simply snapping the arm back into place.
DoorKing's breakaway hardware kit for Model 1601 Barrier Gate operators prevents costly arm replacements by allowing the arm to swing out of the way in the event a vehicle fails to stop at a lowered arm.  If the arm is struck and breaks away, the gate operator automatically shuts down. The system is easily reset by simply snapping the arm back into place. The breakaway kit is designed for aluminum arms only and can be setup to breakaway from either side of the cabinet.
Call 850-664-2222 or email sales@atozsecurityandsound.com
Slide Gate Solutions
Call 850-664-2222 or email sales@atozsecurityandsound.com
Swing Gate Solutions
Call 850-664-2222 or email sales@atozsecurityandsound.com
KEPADS & OTHER DEVICES
Call 850-664-2222 or email sales@atozsecurityandsound.com